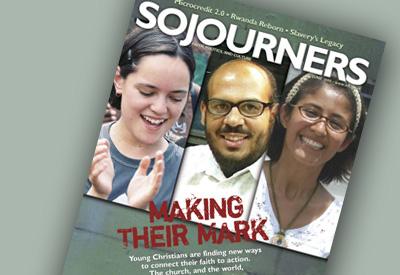 An elderly Zambian woman pulled out a Chutes and Ladders game and showed it to her visitors. "This is my life," she said. "The loan you gave me really helped me, but where are you when a disaster hits?"
One of the visitors was Richard Leftley, an insurance executive who was in Zambia to learn about Opportunity International and its program of making small loans to local entrepreneurs. He learned that many recipients of Opportunity loans were only "one or two disasters away from abject poverty," Leftley told Sojourners.
"I became convinced that God would have me do something else with my skills, and convinced that the poor would want insurance," Leftley said. So he joined the staff of Opportunity and is now president of its Micro Insurance Agency.
Leftley's work is part of a new trend in microfinance. For the first 30 years after Opportunity was established in 1971, small loans to entrepreneurs in developing countries were the centerpiece of its program. With initial loans of as little as $50, Opportunity's borrowers—84 percent of whom are women—can expand their businesses, perhaps by buying a sewing machine or purchasing stock for a store. After paying the initial loan back, a borrower can request another loan and then another, each larger than the one before. Some are eventually able to hire employees.
But microlending has always had its limits. Borrowers and their employees might have nowhere to save their earnings. The costs of a funeral—as high as six months of disposable income, Leftley said—can wipe out a family's savings. Crop failures can make it impossible for farmers to pay back loans. So in the late 1990s, Opportunity began to open new paths in microfinance.
Until 2000, Opportunity operated as an NGO (nongovernmental organization). It made grants to local organizations that would in turn administer the loans. But "as an NGO you're limited in terms of the financial services you can extend," Leftley explained. "People need a wider range of products." Banks can offer more products, and they "can access debt and equity instead of just grants, and … can access social investment funds." In other words, if Opportunity set up actual local banks, they would be able to borrow operating capital at competitive rates instead of relying primarily on charitable contributions—and that would let them dramatically extend the reach of their services.
SO AT THE turn of the new millennium, Opportunity—although still a U.S. nonprofit—made the strategic decision to create banks for the poor. It established its first bank in the Philip­pines in 2000 and now operates 17 commercial microfinance institutions in Africa, Asia, Eastern Europe, and Latin America. To ensure that these for-profit banks align with the mission of serving the poor, Opportunity's nonprofit board of directors retains shareholder control of the commercial institutions. If a bank does well enough to pay dividends, those dividends go back to Opportunity and will be reinvested in Opportunity's work.
Before the Opportunity Interna­tional Bank of Malawi was established, poor people in the country's rural areas rarely had access to financial institutions, explained the bank's CEO, Francis Pelekamoyo. "They cannot en­ter a normal bank," he told Sojourners, "because they cannot meet the requirements"—especially the requirement that they present a passport or driver's license to prove their identity. So Pelekamoyo and his colleagues pioneered the use of biometric technology in microfinance: Bank customers now can identify themselves by pressing a finger to an electronic scanner.
Another innovation made possible by technology is mobile banking. With funding from the Bill and Melinda Gates Foundation, the Banco Oportunidade de Mozambique has outfitted armored vehicles to bring secure banking services to people in remote rural areas. The mobile banks use fingerprint technology to identify customers and cellular technology to make data transfers.
With the shift from an NGO model to a commercial banking model, there has been exponential growth in the number of people Opportunity serves. In its pre-banking era, it took the organization 30 years to pass the 300,000 mark in the number of annual loan customers; in contrast, from 2001 to 2006 it was able to triple that figure in just five years. The number of savings accounts topped 200,000 only six years after they became available.
Even these figures are dwarfed by the rapid growth in insurance clientele. Just six years after launching its first microinsurance program in 2002, Opportunity reported that it had 815,000 insurance policies covering some 3.3 million people in Africa and Asia. With a $24.2 million grant from the Bill and Melinda Gates Foundation announced in Feb­ruary, Oppor­tunity plans to expand the program's reach to 11 new countries and to insure as many as 21 million people by 2012.
THE INSURANCE program has grown so quickly because it has tapped into an enormous unmet need with products that are tailored to local contexts. In the Philippines a life insurance policy costing $1 a month insures a family's principal earner at the $2,000 level, a secondary earner at $1,000, and children at several hundred dollars each. In Zambia, where life expectancy is only 37 years and two-fifths of Oppor­tunity clients experience a death in their wider family each year, the same premium brings only a $150 benefit. The amount is small, but it is more than can be provided by traditional community self-insurance during the AIDS epidemic.
Malawi has been the site of innovation in insurance products as well as technology. Farmers there had difficulty getting loans to buy higher-quality seed because the unpredictable weather made them a bad risk. As Opportunity client Henry Kangwelema described it, during a drought in 2002, "My family and the entire village suffered from the devastation. We had nothing to eat, and we had nothing to pay for school. In that year, I didn't send any of my children to school."
Now, with Opportunity's crop insurance to guarantee their loans, Kangwelema and his neighbors can buy drought-resistant seeds that take root more quickly and produce higher yields. If drought causes the crops to fail, Pelekamoyo explained, "insurance will pay the balance of the loan plus the profit that would have been realized from that production" if sufficient rain had fallen. Now if there is a drought, Kang­welema said, "I will still be able to feed my family. … Instead of just having one meal a day, we have three meals a day. That helps my household financially because I have more energy to grow my business year after year."
The crop insurance program, designed by Pelekamoyo's team in Malawi, is now being tried in other places. The World Bank has selected Opportunity's Micro Insurance Agen­cy to expand the product throughout sub-Saharan Africa in the coming years.
Opportunity is also testing a health insurance product in India, where 24 percent of people who are living above the poverty line when they enter a hospital fall below the poverty line after hospitalization. If the pilot project is successful, Opportunity will expand it to more areas.
Because Opportunity works through local institutions run by local people, it is able to respond creatively to local conditions. When copper mines closed down in Zambia several years ago, throwing many people out of work, Opportunity's local financial institution established an exchange rate in chickens. Asked about the logistical challenges of that arrangement, Leftley said that it only lasted for a few months. "People wanted to pay their loans," he explained, "and staff needed to eat."
SOMETIMES LOCAL unrest forces Opportunity to pull back for a time, as in Kenya, where many loan clients had to relocate and leave behind their businesses in the wake of the violence that followed last December's contested elections. By now, most loans have been restructured with extended payment periods; staff members are helping clients re-establish their businesses. Allowing clients to wait until the situation has stabilized before repaying their loans is "a short-term hit for us," said Leftley, but reflects an "understanding between us and them that we're there long-term for them." Pelekamoyo said, "It's our work as a microfinance bank to facilitate this sort of settling down after political and social unrest." Opportunity is now accepting donations to a Kenya Emergency Fund to help clients rebuild their businesses.
Opportunity's goals for the next decade are stunning in their breadth: By 2015, the organization projects, it will be helping 100 million poor people—some 60 million loan clients and their families, and another 40 million insurance and savings account clients, loan recipients' employees, and all of their families. But some see a need for more depth. Chris Hills, who cofounded the Chicago-based Global Relief and Development Partners (GRDP) in 2006, told Sojourners that microfinance tends to reach a ceiling because the entrepreneurs it funds are producing only for local markets. The self-sustainability this creates "is fantastic," he said, but "you get true development when countries can tax people—individuals and companies."
To bridge the distance between sustenance and the sort of long-term, sustainable wealth creation that Hills envisions, entrepreneurs need new markets outside their local area. Working with Dale Dawson, who laid the groundwork for Opportunity's bank in Rwanda, GRDP's Social Entrepreneur Pro­gram will connect Rwandan entrepreneurs with business leaders outside their country. These leaders will mentor their Rwandan counterparts and will link them to overseas markets for their products.
Together, social entrepreneurship and innovative microfinance hold the promise of redesigning the Zambian woman's Chutes and Ladders game. With shallower chutes and higher ladders, it won't be nearly so difficult to win.
Meg E. Cox was a writer and editor in Chicago when this article appeared.