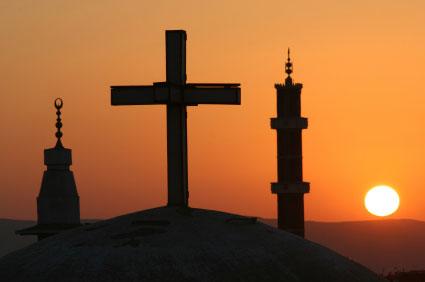 THE VIOLENCE AND kidnappings in Nigeria are more than a religious conflict: They are a political manipulation of religion.
Before the 2011 Nigerian election, northern politicians (who are mostly Muslims) threatened to make the country ungovernable if Goodluck Jonathan, a Christian from the south, became president. Jonathan was vice-president for Umaru Musa Yar'Adua, a Muslim from the north, who died before completing his eight-year term. Jonathan assumed power after Yar'Adua's death, as is allowed by the constitution. However, northern Muslims claimed that since Yar'Adua did not finish his term, they should be allowed to place someone of their own choosing in power. Jonathan's refusal angered the north.
In response, the Muslim terrorist organization Boko Haram began intensifying its attack on Jonathan's rule in order to discredit his presidency and his pursuit of the 2015 election. If Boko Haram succeeds in pushing Jonathan out, southern militia groups are likely to commence their own violent campaign. These terrorists are trying to manipulate people by making them think that it is a religious fight, when in reality it is about political power.
People, however, are beginning to reject the violence. In April, as the world is well aware, Boko Haram kidnapped more than 200 schoolgirls from Chibok, a community that is said to be about 90 percent Christian. The outcry of rage and pain about this incident transcended religious lines. In a May market bombing in the city of Jos, both Christians and Muslims lost their lives. After the bombings, Muslims and Christians on the streets of Jos tried to work together in finding a way through the situation. People no longer want to fight and are starting to value peacebuilding and interfaith efforts. This is a sign of hope.
There are many peacebuilding activities happening in Nigeria, and all over Africa, that were not present in years past. Awareness has been created by likeminded Christians and Muslims working together for peace.
One example I've worked with is the Emergency Preparedness Response Team that uses text messages to confer with each other about possible threats and rumors of attacks. These text messages help diffuse rumors and prevent preemptive strikes from either side.
The program does trainings based on principles and techniques taught in the conflict transformation program at Eastern Mennonite University in Harrisonburg, Va. Most of the participants who come to the trainings are younger people of both Muslim and Christian faith. The participants enter into the trainings with a lot of excitement, zeal, and tension associated with the current unrest. Through the trainings, they are often transformed from a position of violence to a position of nonviolence. Participants grow in understanding that both Christians and Muslims are victims, and that in order for peace to succeed they must enter into open dialogue with one another.
Support for interfaith efforts for peace and reconciliation is growing. Sometimes the Christians and Muslims who participate in the workshops deliver relief matériel to recent victims of violence. They also sometimes go together to clean the outside of a mosque or church to show support and unity with one another. We laid the foundation for peace work by hosting workshops and trainings. Now others are carrying the mantle.
In Nigeria, religious manipulation is widespread, but it is lessening as more people become aware that violence is destroying their lives and livelihoods. Both Christians and Muslims are coming out strongly to condemn acts of bombing and kidnapping and to support interfaith efforts. We have to sustain the momentum of peace. 
Gopar Tapkida and his wife, Monica, are Mennonite Central Committee representatives in Zimbabwe. Tapkida, a native Nigerian, served for six years as MCC regional peace adviser for West and Central Africa and is a graduate of the Center for Justice and Peacebuilding at Eastern Mennonite University.