My God Does Not Torture People, Part 1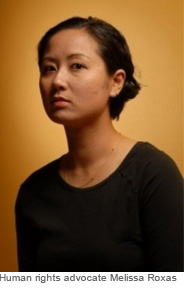 Melissa Roxas is someone I am proud to call a friend. When I met her three years ago, I was struck by her deep desire to return to the Philippines to provide volunteer services to impoverished communities. She is also the first known American citizen under the Obama administration to have become a victim of abduction and torture in the Philippines, a country which has drawn international condemnation for state-sponsored human rights atrocities.
Related Reading
Take Action on This Issue
Abducted and tortured in the Philippines from May 19-25, Roxas on June 28 spoke out publicly, for the first time, about what she endured while held for six days in what appeared to be a military camp. Ms. Roxas, an American human rights advocate of Filipino descent, was in the Philippines as a volunteer health worker and to do research for a writing project, but her abductors falsely accused her of being an insurgent against the Philippine government.
She described how she and two companions, John Edward Jandoc and Juanito Carabeo, were violently abducted at gunpoint by several heavily armed men. Then she was brought to what she believes was a military camp:
They didn't feed me during the first day and the second day they did not feed me until night. The whole time throughout my abduction, I was blindfolded and handcuffed, except when they made me take a bath. At first they had me handcuffed in the back but later put the handcuffs in front because my hands were severely cut and bruised.

I was never left alone. There were always men watching me. I was constantly interrogated and during the interrogations they would ask me repeatedly if I knew why I was there. I was told by them that I was abducted because I was a member of the CPP-NPA [Communist Party of the Philippines-New People's Army]. I repeatedly told them that I was a volunteer health worker and writer and that I have rights. And I demanded my lawyer.

They told me that even if a year passes, I would see no lawyer -- that there I had no rights.

They told me repeatedly that it is people like me who are costing the government so much money. It is people like me who are making it difficult for the government. Then they threatened me and beat me.

I remember when two men entered my cell, and one of them