The State-Planned Part of Genocide
Reckoning with unmarked graves and Christian complicity.
George "Tink" Tinker is professor emeritus at Iliff School of Theology in Denver and a citizen of the Osage Nation. He spoke with Sojourners' Jenna Barnett.
"TWO-HUNDRED-FIFTEEN children were buried in unmarked graves at Kamloops Residential School in British Columbia—that was just the first. We're going to see this repeated across the continent from the Arctic North down to the Rio Grande. It's not over. It's just starting.

The boarding schools—what they call residential schools in Canada—were a state-planned part of the genocide of the American Indians. They were a way of removing an obstacle to getting the land and the resources. The boarding schools were part of the intentional destruction of the American Indian worldview [to give rise to] the Euro-Christian worldview of radical individualism, of private ownership, of hierarchy.

Private ownership of land is considered a fundamental human right to Euro-Christians. What good does that do for Indians, who want to honor the Earth as a close relative—as a mother, a grandmother? It was always, first of all, about the land, and still is today as we see pipeline after pipeline in Canada and the U.S.

When I read Facebook and the responses of liberal, white, Euro-Christian people to these revelations, I see a proliferation of teary-eyed emojis: sadness. Screw sadness! Euro-Christian people should be mad as hell that your privilege, power, and ownership of land on this continent is rooted in those children dying that way and being buried by the missionaries or by government officials in government schools without even notifying the parents, because [those children] were not yet considered human until converted to Christianity.

The churches were part of the political system from the very beginning and the churches need to change the political system now. A variety of denominations in the past 20 years took action to disavow the Doctrine of Discovery. How much land did Indians get back? What did it accomplish? That's only a tiny first step. It's time to roll up your sleeves and go to work."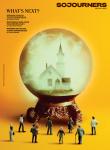 This appears in the September/October 2021 issue of Sojourners
Got something to say about what you're reading? We value your feedback!