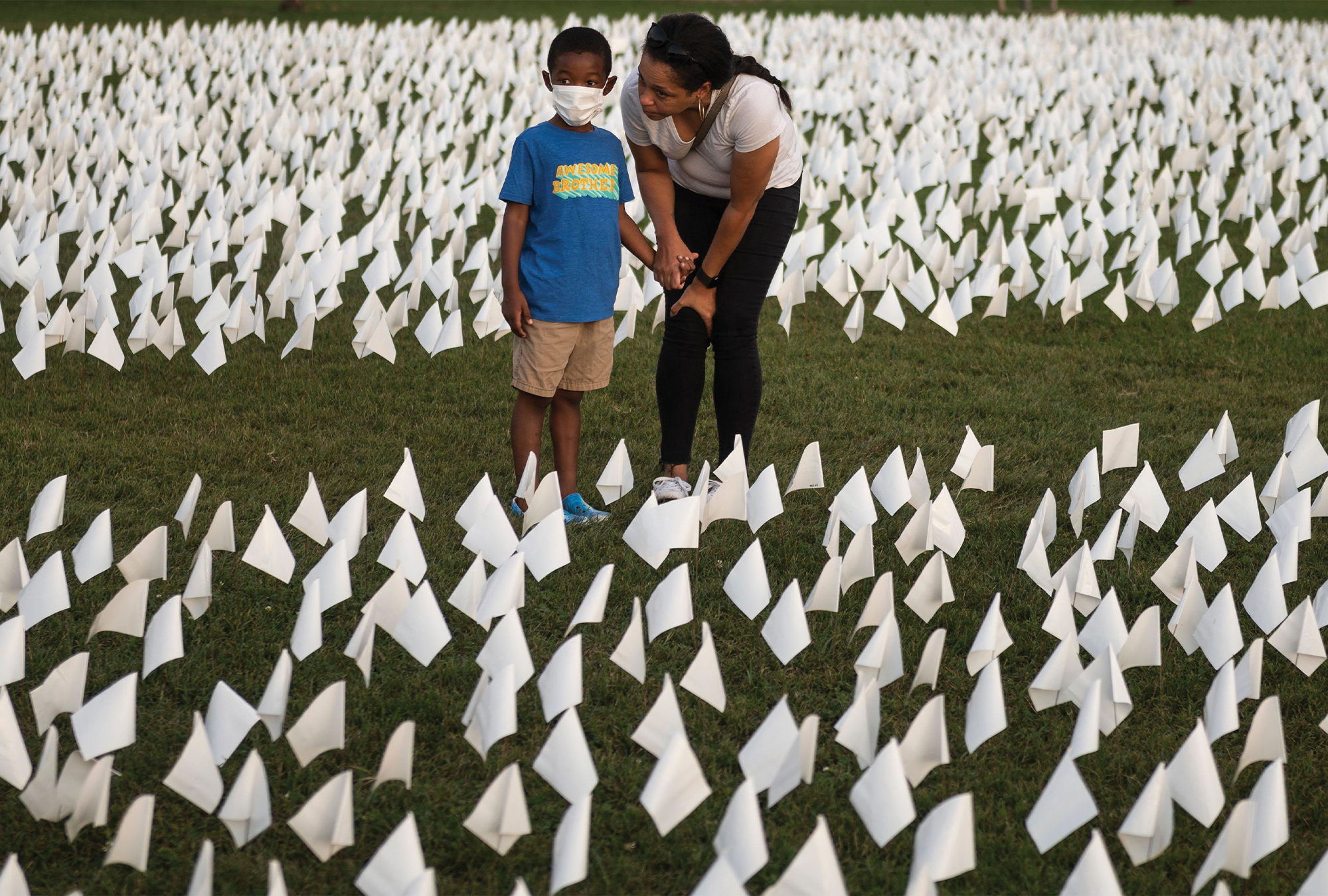 An Artist's Tribute to Our Collective Loss
'In America: Remember' was a vast field of flags: one for each person who died from COVID-19.
Suzanne Brennan Firstenberg, creator of "In America: Remember," is a social practice artist in the Washington, D.C., area. She spoke with Sojourners' Jenna Barnett.

"['IN AMERICA: REMEMBER'] was a vast field of flags: one for each person who died from COVID-19. The installation began [in mid-September] when there were 666,624 deaths. Each day, I changed the number on the large sign. When the installation closed [in early October], there were 701,133 deaths.

People came thousands of miles to write words on 5-by-4-inch poly film attached to a steel stem. Each time somebody dedicated a flag, they were my co-artists. To have the privilege of watching strangers console strangers—that was the magic of the place. It was important to us to make sure that people had equal access to this art. Many people who had suffered losses could not afford the time or the expense of coming. So, we announced that the art was coming two months in advance so that people could plan. And we made sure that people could dedicate flags through our website.

I am privileged to have been a hospice volunteer for 25 years. I bring that willingness to witness grief to this art. We treat the one sure thing in all our lives as if it's never going to happen; that doesn't allow us to live fully. Having public acknowledgement [of grief] validates not only the person who has died, but also the family's grief. I saw a mother and a daughter who, after planting a flag, said a prayer and did the sign of the cross. One family scattered ashes. People treated it as a memorial service.

There was a flag dedicated to a woman named Kitty: 'I asked you to get vaccinated, but you said, God will protect me. The vaccine is from God. You passed the end of July.' I love the flag dedicator's more holistic understanding of God—that God works through people, and science, and society."
This appears in the January 2022 issue of Sojourners
Got something to say about what you're reading? We value your feedback!