'Like a Rolling Cannonball to Hell'
The shrimp boat captain who took on toxic chemical plants in Texas.
Diane Wilson, a 2023 Goldman Environmental Prize winner, spoke with Sojourners' associate news editor Mitchell Atencio.
I'M A FOURTH-GENERATION FISHERWOMAN. In 1989, I was working in Froggy's Shrimp Company as one of the only woman fish house managers. A shrimper came in the office and pitched a [newspaper] article on the desk. It was the first time the toxic release inventory ever was made public. It was part of the Community Right-to-Know Act. Calhoun County is a small, rural county, but we were number one in the nation for toxic disposal.
That information just blew me out of the water. I walked down to city hall demanding a meeting. The backlash to that simple request was how it started — and it's been like a rolling cannonball to hell ever since. We have Alcoa, Formosa, Union Carbide, and they all dumped into the head of the bay. The head of the bay is the nursery area — yet these chemical plants are discharging there. Fishermen would bring me fish that were rolling on top of the water, alligators rolling on top of the water. Shrimp had black spots in their heads. Juvenile black drum fish had stomachs that were disintegrating.
I was raised Pentecostal. I am no longer Pentecostal but am very spiritual. Maybe when you're Pentecostal and you have the Holy Ghost on a big white horse running through the church or you got angels, then you get a real sense of the invisible. When I was young, we'd go down to see the shrimp boats come in. I remember seeing this old woman who was delighted to see me and loved it when I came down. A few years later, I realized I was seeing the bay herself. She was so strong that I could physically see her essence. To me, she is real, she has value, she has energy, and she's family. And I cannot divorce family from what I do. It's the best part of myself. So, I'm dogged and persistent. I just won't let it go. I won't do it. The most important ingredient I have is my integrity.
Read the Full Article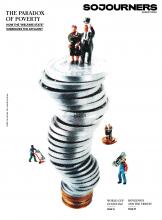 You've reached the end of our free magazine preview. For full digital access to Sojourners articles for as little as $3.95, please subscribe now. Your subscription allows us to pay authors fairly for their terrific work!
Already a subscriber?
Login
Got something to say about what you're reading? We value your feedback!