During an Animal Blessing, I May Be Holding a Paw
"We want to recognize how you have blessed Bandit and how Bandit has blessed you."
Russell Elleven is chaplain to the Unitarian Universalist Animal Ministry. He spoke with Sojourners' Jenna Barnett.

DURING AN ANIMAL blessing, I place my hand on the animal somewhere that I've been told is safe. It may be the top of the head. I may be holding a paw. I may say something like, "Sue, thank you for bringing Bandit to the service today. We want to recognize the specialness of this relationship. We want to recognize how you have blessed Bandit and how Bandit has blessed you." Some people may be remembering an animal who was in their life and is no longer.

It's become so much different now that animals are truly parts of households, and not a friend who's left outside with a doghouse. We have taken these beings into our homes and said, You're not just a guest here. You're part of the family.
We may become more isolated as we age, and our social groupings may get smaller because of death or a variety of reasons. The things we used to do we don't do as well anymore. We begin to isolate more and more, and these animals who are living with us sometimes are the biggest connection to life that we have. During the pandemic, people of all ages have gone out to shelters and brought animals home. [When a person is alone], an animal companion may be the difference between a life that is possible and a life that is barely bearable.

I think as we become more familiar with animals in our homes that leads us to animals outside of the home. It leads us to [think about] climate change and how animal agriculture is hurting the planet in such a way that we may not recover. There are some dire circumstances in our future, and we may ask animals to comfort us more and more.

When I come home, even if I'm not feeling my best, that animal greets me in a way that says we know each other. Dogs are like, oh gosh, you're home. I'm so glad you're home. My spouse may be glad I'm home, but she doesn't do a dance like the pup does.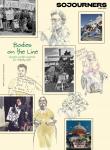 This appears in the April 2022 issue of Sojourners
Got something to say about what you're reading? We value your feedback!