'Forgiveness Is to Remember Without Pain'
FARC Ex-Combatants Live Fragile Peace in Colombia
by Albin Hillert 12-07-2018
For the past two years, a group of families of former FARC-guerrilla combatants have settled down to cultivate a piece of land in northwest Colombia. Laying down their weapons following the 2016 peace treaty with the Colombian government, many ex-combatants now face trauma, stigma, and insecurity, and slow progress in the implementation of the treaty makes the situation precarious.
Accompanying the emerging communities is the Evangelical Lutheran Church of Colombia, which offers support and training on trauma management, self-protection, and legal issues to both ex-combatants and the communities they are reintegrating into, to help alleviate the risk of re-victimization, or relapse into violent conflict — all through a project named From War to Peace, part of a global initiative of the Lutheran World Federation, Waking the Giant.
"My dream, it is to see this country in peace," says Joverman Sánchez Arroyave, formerly known by the name of war Rubén Cano, as commander in the FARC guerrilla (Revolutionary Armed Forces of Colombia).
Following the 2016 peace treaty between FARC and the Colombian government, Rubén and a group of ex-combatant families purchased and now cultivate 36 hectares of land in the territory of San José de León, municipality of Mutatá in Antioquia, Colombia.
Though the community has come a long way, challenges remain on the way to peace and reconciliation.
The 2-year-old community, which does not yet have a name of its own, is located in the territory of San José de León in Urabá, northwest Colombia, a strategically important corridor for trade into Central America, with resulting drug trafficking and arms trade still keeping armed groups active in the area.
Many ex-combatants face trauma and insecurity, and a lack of fulfilment by the Colombian government in transition of land ownership to FARC members makes the situation delicate.
Through the project De la Guerra a la Paz ('From War to Peace'), the Evangelical Lutheran Church of Colombia accompanies three communities in Antioquia, offering support both to ex-combatants and to the communities they now live alongside, as they reintegrate into society.
Supporting more than 300 families, the project seeks to alleviate the risk of re-victimization or relapse into violent conflict, and is part of the global initiative Waking the Giant, where the Lutheran World Federation mobilizes churches to help achieve the U.N. 2030 Agenda for Sustainable Development.
Leaving war behind, some things change while some remain the same.
A young girl and her mother walk through the village in San José de León. Born in late October 2017, the girl is just over a year old, and her mother went through pregnancy at a time when the plastic that today makes the foundation of fish farming tanks served as roofs over community members' heads.
A group of 27 ex-combatant families first purchased the lot of land in San José de León, moving in from nearby Córdoba to settle alongside the 50-or-so families of farmers already living in the area. Today, 50 ex-combatant families live in the emerging community, which hosts a small restaurant, various committees for community organization and development, and which cultivates the land through agriculture, poultry, and fish farming.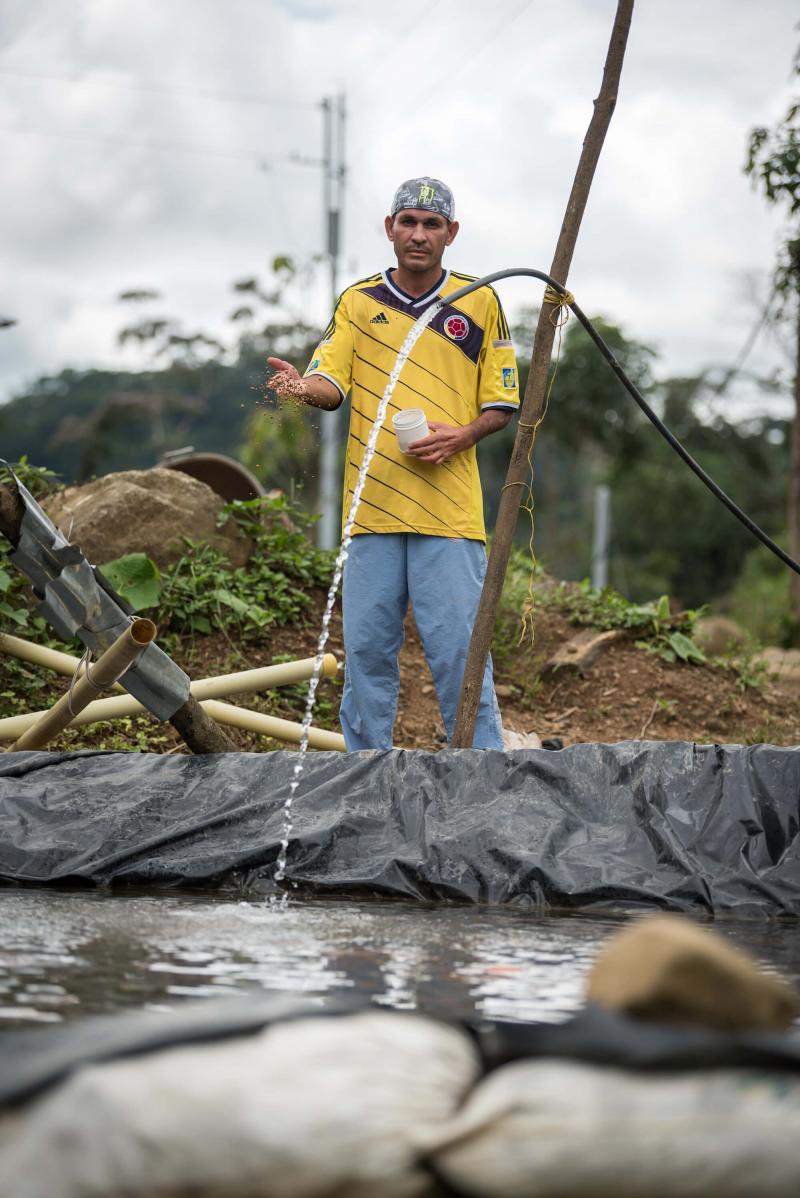 "The difference is in our everyday life," says Joni Pertuz as he feeds a school of 300 tilapia fish just outside his house.
"To not have to get up at 6 in the morning and check the map to see where the enemy is. Now things have changed. We get up in the morning to look after our kids, to check on the animals that we have. But what has not changed is our sense of collective. We stay united."
Engaging in practical more than religious accompaniment
"To forgive is to remember without pain," says a man in his mid-50s, as sociologist Ana Eloísa Gómez leads a workshop with community members in mid-November.
The session at hand is on forgiveness and reconciliation.
"We know that there are many things that hurt, that keep us apart.
"But maybe we can also think of things that unite us, that help keep us together as a nation?" Gómez asks.
"As a church in this instance, we offer not so much religious as we do practical accompaniment," says Rev. John Hernández, a Lutheran pastor who accompanies the project. "We offer support on trauma management, self-protection, and legal issues."

"In one way, one of our biggest threats today is the state," explains Maribel David Galiano, president of the community board of San José de León. "For example, as we are in an area that is very rich in clean water, to make sure the state doesn't allow mining companies or others to exploit or damage this resource."
The community is located by the banks of River Fortuna.
"Take care of nature, do not litter," a sign by the river reads.
Galiano says, "it is important that ... people know about the reality of life in our communities, that we are people who want to work, live in peace, who want our communities to develop."
'I dream of a Colombia in peace, of education for my children.'
"Peace is big concept. Peace is education, peace is health, peace is life in dignity" says Edwin Mosquera, project coordinator of De la Guerra a la Paz. "In practical ways, this project has allowed us one of those small opportunities, to start to dream of building peace in Colombia."
"As a mother, I dream of my children continuing to study, to become maybe a secretary, or a teacher. That is my dream," says 41-year-old mother of five Vianeth.
"My dream is that my children will have a better future than the one we are living, that they will continue to study, not become a man without letters, like me," says Edilberto Reyes.
"I dream of seeing a Colombia truly in peace, a peace that includes social justice, and including a developed countryside, in education, in health, and in all aspects that affect the country," says Luz Ledis López.
"People in this community have worked hard together, and we see the progress that we have made. My dream is to see this work continue, so we can move forward even if we see lack of fulfilment from the government on the peace treaty," says Giovanni Duarte.
"I dream that what was agreed in Havana, witnessed by the international community, is fulfilled. That is the whole essence, to achieve the political transformation that is needed in our country, including peace," Rubén concludes.
Got something to say about what you're reading? We value your feedback!
Love what you're reading?
Fund our nonprofit journalism!
Give Now