mistrust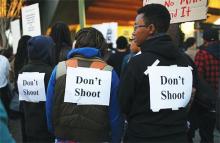 Police killing of black people is not a black problem. It is an American problem.
At the baptism of our Lord, heaven simply could not contain God Godself and God the Spirit who interrupt the regularly scheduled programming to bring a very important message.
I remember playing WWII as a boy. We would pick sides of American and Nazis. Of course, everyone wanted be the Americans, the good guys.