DRONE WATCH: The Switchblade is Coming
It's 2 feet long, weighs only 6 pounds, and can fit into a soldier's backpack. It's the "Switchblade," the next generation of drones. They're about the size of model planes,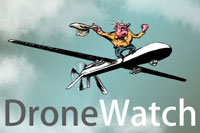 with tiny explosive warheads that the soldier firing it can accurately aim at a target. Its accuracy is being touted as a way to minimize civilian casualties.
According to the Los Angeles Times,
"The 2-foot-long Switchblade is so named because its wings fold into the fuselage for transport and spring out after launch. It is designed to fit into a soldier's rucksack and is fired from a mortar-like tube. Once airborne, it begins sending back live video and GPS coordinates to a hand-held control set clutched by the soldier who launched it. When soldiers identify and lock on a target, they send a command for the drone to nose-dive into it and detonate on impact. Because of the way it operates, the Switchblade has been dubbed the "kamikaze drone."… "This is a precision strike weapon that causes as minimal collateral damage as possible," said William I. Nichols, who led the Army's testing effort."
Sound like a future fantasy? Think again, "About a dozen Switchblades were tested last year by special operations units in Afghanistan, according to Army officials, who said the drone proved effective."