DRONE WATCH: Playing God in Pakistan
One of the U.K.'s leading newspapers, The Guardian, takes on President Obama's drone policy in an editorial this morning: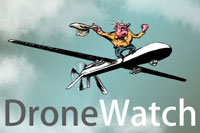 "Thomas Aquinas, Augustine and John Brennan – two saints and a counter-terrorism adviser – may give the counsel a president feels he needs before adding another al-Qaida suspect to his kill list. But whatever else these authorities do, they do not constitute due process – and Barack Obama's administration knows it. It is doing everything it can to avoid scrutiny. It is refusing to publish its standards for putting people on terrorist or assassination lists. What are the target limits? When is a last resort truly a last resort, particularly in areas well back from recognised battlefields? And who is providing independent oversight?"