Advent Echoes: Checkpoints and Childbirth on a West Bank Winter Night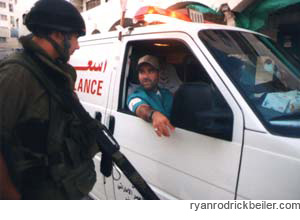 Although Hani Abu Haikal is a Muslim, he probably can identify with the sense of panic Joseph and Mary must have felt as they searched for a place to stay as the time of Jesus' birth drew near.
Related Reading
Take Action on This Issue
Hani lives in Hebron, 23 miles and two millennia from the little town of Bethlehem where the Christmas story is set. He lives in a city where the tension between the estimated 200,000 Palestinian residents and the 500 Jewish settlers is as sharp as anywhere in the West Bank.
Our group of seven visitors from the United States sat in Hani's living room recently as he told the stories of life under Israeli occupation, stories including those harrowing hours a few years ago when his wife was in labor and the ambulance got delayed at checkpoint after checkpoint.
The labor story is all too common in this land of checkpoints and arbitrary decisions by the soldiers that staff them.
Hani had arranged in advance for an ambulance to come get his wife went she went into labor with their fourth child. He had all the necessary permits to get the ambulance through the checkpoints. So when his wife went into labor and he called for the ambulance, he thought all would be well.
But one hour went by, then another. He called the ambulance driver, who said he was stopped at a checkpoint and the soldiers were taking everything out of the ambulance to inspect it. More time went by. Still at the checkpoint. And there were two more checkpoints to go. His wife's labor was progressing rapidly.
Finally, in desperation, Hani picked up his wife to carry her over hilly, rocky, ice-covered paths on that January night as his sister used the glow from her cell phone to light the way. The birth was fine. In fact, it was well over by the time the ambulance finally cleared the last check point -- 14 hours after Hani had called for it.
Despite this and so many other hardships of living under occupation, Hani speaks with passion about the future he wants for his four children -- and for all the children of Hebron. Much as Christians look forward in this season of Advent to the promise of a brighter future, he looks forward to a future built around a commitment to creativity and to nonviolence.
Hani speaks with passion about the suffering he has endured at the hands of his neighbors -- Israeli settlers who live right next door and who torment him, burning his cars and his 268 olive trees. And there is suffering at the hands of the Israeli army that intrudes into his house regularly.
He showed us videos of his car burning, set on fire by settlers. This was the sixth car he has lost to arson. He showed us a video of his olive trees burning, again the result of arson. The Israeli soldiers watched until the wind shifted, then they helped put out the blaze since it was now heading toward their post.
The story of his wife's labor indicates the hardship of living under occupation. The story of the arsons shows the kind of harassment he lives with. But it is the story of how he and his friends outwitted the occupying forces to rescue the house next door that offers a light for the future.
Hani told the story of the curfew imposed by the Israeli army in 2000 as the second Intifada began across the West Bank. Some of the soldiers took over his neighbor's house, located on a hill that commands a good view of a large area of the city. After a while, they used the house as a jail. Hani said from his house next door he could hear the cries of the Palestinian prisoners there as they were being beaten.
Hani and some other neighbors tried to get the owner of the house to reclaim his home from the Israelis. The soldiers told him if he gave up his Jerusalem identification card -- a prized possession that allows Palestinians to enter Jerusalem -- they would give him his house back. He refused to do that.
So the neighbors made a contract with the owner to rent his house and won an order from the Israeli Supreme Court to have the soldiers vacate it. They did -- but only after demolishing it. Hani and two others rebuilt the house with help from the Israeli Committee Against House Demolitions. Volunteers from human rights organizations slept there to protect it during the rebuilding process.
Now it is an educational center for Palestinian children between the ages of 9 and 16. Ten children come there for English lessons, 15 girls come for a course in video production, 25 youngsters come for nonviolence training.
"Remember how I heard the screams of the tortured prisoners" coming from that house, Hani said. "Now I hear the laughter of children." That's where his hope lies.
He said when he listened to his children going to bed at night, he heard them talking about revenge on the settlers. That's not what he wants for them. He knows that path from his own past. He spent six years in an Israeli jail as a security prisoner.
"My culture was to throw rocks," he explained. "I don't want my kids to be like that."
He worries that radical Palestinian organizations will try to teach his children and other children the ways of revenge. "I don't believe in guns," Hani explained. "We have no protection. God just protects us."
And then there are the video cameras. He teaches his children and other children to use the camera as their weapon, to document what harassment they see, to post it on YouTube.
"I refuse to bomb buildings," Hani said as we ended our time with him. "I will fight that. That is not being weak. To be nonviolent, you have to be very strong."
No one who spends any time with Hani could doubt either his passion for justice nor the strength of his being.

Phil Haslanger is pastor at Memorial United Church of Christ in Fitchburg, Wisconsin. He blogs at pastorphilsplace.blogspot.com.