12 disciples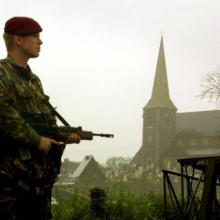 With all the different groups out there claiming to follow Jesus, how do we know which ones Jesus would claim as his own?
Is it possible that Jesus would claim both liturgical Christians and free-wheeling holy roller Christians?
What about liberal Christians and conservative Christians? Is the tent that Jesus pitches big enough to include people like Dorothy Day and Jerry Falwell?
I'm 33 years old, and I've been following Jesus — or should I say trying to follow Jesus — for as long as I can remember. If there's one thing that I've learned after all these years, it's that as soon as I think that my friends and I have a corner on Jesus, Jesus reminds me that He's bigger than any organization, doctrine, or philosophical system that I can wrap my brain around.