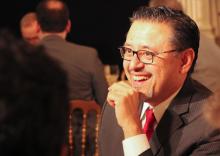 While Republican leaders blast President Obama for taking executive action on immigration reform, some prominent evangelical leaders are welcoming the president's plans to keep about 5 million undocumented immigrants from being deported.
Evangelicals are a key voting bloc for the GOP, but on immigration some are taking a pragmatic step away from the party. They include Hispanic leaders such as the Rev. Samuel Rodriguez who say the time has come to manage what has become a "de facto humanitarian crisis" for millions of immigrants.
"This merciful action takes place because for years our government, under the leadership of both parties, failed miserably as it pertains to immigration," said Rodriguez, president of the National Hispanic Christian Leadership Conference.
Rodriguez planned to be with Obama on Nov. 21 in Las Vegas, where the President hopes to rally for his new steps.