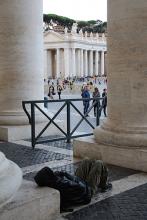 In his latest bid to ease the suffering of the poor — and upend the expectations of the papacy — Pope Francis plans to build showers for the homeless under the sweeping white colonnade of St. Peter's Square.
Three showers are to be built into refurbished public restrooms provided for Catholic pilgrims along the marble columns leading into the historic basilica, which was completed in 1626.
The Vatican's deputy spokesman, the Rev. Ciro Benedettini, said Nov. 13 that the project was a joint initiative of the pope and Archbishop Konrad Krajewski, the papal almoner who distributes charity on the pope's behalf. Construction is due to begin Nov. 17.
It's an unconventional move, even for a pope who constantly preaches that more should be done to help the poor. It also could rankle traditionalists as the homeless line up to wash beneath the extravagant apostolic apartments that Francis shunned after his election.
"I think it's a good thing," said Adrian Sztrajt, a 27-year-old homeless man from the Polish city of Chelm. "I would like to go for showers there."
Sztrajt and his companion Grzegorz Bialas, also from Poland, sleep with half a dozen others under the porticoes in front of the Vatican press office beside St. Peter's Square.
Bialas said he's a fan of the pope but thinks the showers are "a bad idea" since they could attract hundreds of homeless to the Vatican. He also said it was possible for the homeless to get a shower elsewhere in Rome.