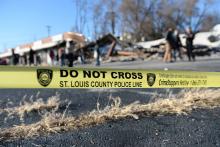 The case of Missouri man Henry Davis against the Ferguson Police Department was reinstated by a federal appeals court on July 28.
Davis filed a lawsuit against the department in 2010, arguing he was wrongly mistaken for a criminal and physically assaulted by three white Ferguson police officers. With the lawsuit Davis included a photo that shows him bleeding from his head. This injury had resulted in Davis being charged with destruction of property for bleeding on the officers' uniforms.
U.S. Magistrate Judge Nannette Baker halted his case in 2014 after saying his injuries weren't severe enough to merit prosecution.
But on July 28 the U.S. Court of Appeals for the 8th Circuit ruled that Baker should not have dismissed Davis' claims.