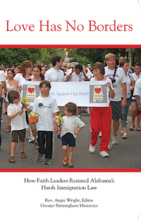 On April 27, 2011, 62 killer tornadoes ripped through Alabama, destroying homes, lives, and entire communities. Two weeks later, another disaster struck Alabama — HB56, the most draconian anti-immigrant law passed by any state in the nation. Instead of working to provide disaster relief for a stricken people, Alabama legislators fulfilled campaign promises to criminalize undocumented immigrants for simply setting foot in Alabama. Their intent was to make every aspect of immigrants' lives so miserable that they would self-deport.
The politicians far underestimated the heart and spine of Alabama's faith leaders. A new book published by Greater Birmingham Ministries, Love Has No Borders, is a testament to how faith leaders united with immigrants to challenge the nation's most hostile anti-immigrant legislation. Our experience is critical to the current national debate on comprehensive immigration reform and challenges faith leaders anywhere to step up, speak up, and stand with immigrant communities in their struggle.
HB56 did everything its authors intended. It hurt undocumented immigrants where they lived, worked, worshiped, prayed, and went to school. HB56 created mass confusion and outright terror for people without papers in Alabama. Most immigrant families were faced with shattering decisions. Should they split their families up, leaving those who were citizens in Alabama and the rest fleeing to relative safety somewhere else? Or should they stay together in this place they call home, living in constant fear that a broken headlight or a roadblock would lead to detention and deportation?