Anglicanism
Episcopal Church Presiding Bishop Katharine Jefferts Schori, the first woman elected to head a national branch of the worldwide Anglican Communion, announced Sept. 23 that she will not seek a second nine-year term in office.
Her departure will likely set off debates over her legacy and the future of the 2 million-member denomination.
"I believe I can best serve this church by opening the door for other bishops to more freely discern their own vocation to this ministry," Jefferts Schori, 60, said in a statement. "I will continue to engage us in becoming a more fully diverse church, spreading the gospel among all sorts and conditions of people, and wholeheartedly devoted to God's vision of a healed and restored creation."
Her 2006 election was celebrated as a breakthrough for women leadership in the church; delegates sported pink "It's a Girl!" buttons after the vote. She remains the only female primate in the Anglican Communion, but last year the Evangelical Lutheran Church in America followed suit and elected its first female presiding bishop.
Jefferts Schori's current term will end at the conclusion of the Episcopalians' General Convention in Salt Lake City in June 2015. Church membership during her term has dropped by 12 percent, according to the most recent statistics available from the denomination.
Jefferts Schori's time as presiding bishop has been lauded by theological liberals and bemoaned by conservatives, but both breakaway Anglicans and Jefferts Schori were instrumental to one another's rise.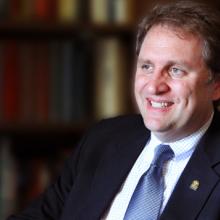 Christians and Jews are mounting campaigns for and against a path to sainthood for British writer G.K. Chesterton (1874-1936), one of the world's best-known Catholic converts.
Roman Catholic Bishop Peter Doyle of Northampton, where Chesterton lived and worked, has ordered an examination of Chesterton's life — the first step in what is likely to be a long and unpredictable process toward canonization.