#Occupation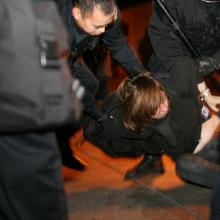 It's deadline day for Occupy DC:
From MSNBC - Occupy protesters in the nation's capital were preparing for a noon Monday deadline set by federal park authorities to end camping at some of the movement's last remaining large encampments, with some "surprises" in store, one of the activists said.
From The Huffington Post - U.S. Park Police say an officer used an electronic stun gun on an Occupy DC participant who was tearing down fliers warning protesters about the ban on camping in McPherson Square.
Violence escalates at Occupy Oakland – tear gas used, hundreds arrested
From The Associated Press - The demonstrations in downtown Oakland broke a lull that had seen just a smattering of people taking to Oakland's streets in recent weeks for occasional marches that bore little resemblance to the headline-grabbing Occupy demonstrations of last fall.