Aladdin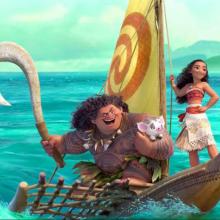 With its new full-length, animated feature Moana, Disney Studios expands the ethnic and religious diversity in its heroines, in this case with a spirited Polynesian girl, played by Auli'i Cravalho, who is a native Hawaiian. The film is the latest in the lucrative princess franchise that began in 1937, with Snow White and the Seven Dwarfs, and was enhanced over the decades with films like Sleeping Beauty and Cinderella.
Moana finished No. 1 at the box for the third weekend in a row, earning $145 million since opening over the Thanksgiving weekend.
We lost a funny man on Monday to a sad and persistent disease. Robin Williams passed away last night of an apparent suicide.
In memory of Williams, we've compiled a few of our favorite scenes.
1. Aladdin
Williams' performance as the lovable Genie: "Ten thousand years will give you such a crick in the neck!"