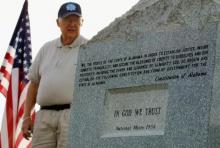 MOBILE, Ala.--With 98 percent of state precincts counted, Roy Moore held on to 51 percent of the vote in his bid to retake his former job as chief justice of the state's supreme court.
Moore received 279,381 votes to Mobile Judge Charlie Graddick's 139,673 votes (25 percent), and incumbent Chief Justice Chuck Malone's 136,050 votes (24 percent).
If Moore slips below the magical 50 percent mark once all precincts are reported, he would face either Graddick or Malone in a Republican run-off on April 24.
"I'm very happy at what we thought was going to happen. The people support me. So many tried to disparage me," Moore said after the vote on Tuesday (March 13). "My opponents are very good men, qualified judges. I've never made any disparaging remarks."
Moore is hoping to regain a position he lost in 2003 when a state panel expelled him from office for failing to comply with a federal court order to remove a 5,280-pound granite monument to the Ten Commandments that he had placed in the Alabama Judicial Building in Montgomery.