African spiritualism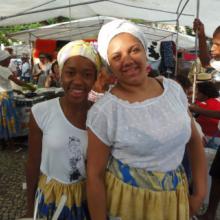 The couple practiced Candomble, an African-Brazilian faith with roots in Brazil's slave trade.
They dressed in white and believed in an all-powerful God who is served by lesser deities, blending Catholicism with African spiritualism, or the belief that the dead communicate with the living.
But their neighbor, who attended a local evangelical church, disapproved. On a balmy day one year ago he shot and killed the husband as he was screwing in a light bulb in his yard.