adolescence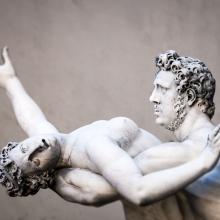 The term "rape culture" is a sociological theory in which individuals who sexually harass and assault others are given a social license to do so, as they live in a society that makes excuses for perpetrators and blames victims for their own abuse. Feminist theorists often argue that rape culture beliefs are socialized into young men and women from childhood. Young men are socialized into beliefs that they have power and/or control and entitlement over others' bodies from a very young age. Likewise young women are socialized into believing they control men's desire and lust via their clothing, behavior, and attractiveness. The theory of rape culture argues that these social beliefs facilitate sexual harassment, inappropriate sexual touch, sexual assault, and sexual objectification of others by reducing the stigma of engaging in unwanted sexual behavior and by increasing a since of entitlement from men towards women.
In Christian spheres of influence there has been an increasing focus — via Sojourners, Christians for Biblical Equality, and likeminded groups — to exposing how social beliefs, church leaders, and authoritarian theology has contributed to rape culture beliefs in the church and in the larger community. This focus comes in the midst of a media debate between social conservatives and social progressives about the very existence of rape culture. Inspired by conservative opposition to the recent publicity from the White House on the epidemic of sexual assault on college campuses, this debate was further inflamed by the retraction of a Rolling Stone article about allegations of sexual assault at the University of Virginia. In response, it has become popular in recent months for conservative commentators to argue that there is no such thing as "rape culture."
This escalation of rhetorical debate is dangerous because it distracts from the real concern that rape culture theory was developed to address — that we help socialize dangerous behavior in children by our actions, inactions, and modeled beliefs.
Allow me to share with you a list of characters I've been told that I look like. I got all of these when I was in elementary, junior high, and high school.
Screech
Mr. Bean
Ernie of Bert and
Boy George
The elf that wants to be a dentist from Rudolph the Red-Nosed Reindeer
Imagine being a 12-year-old boy and all of your classmates agree that you look like the nerd on Saved by the Bell. Not exactly a confidence booster when it comes time to ask a girl if she wants to — as I remember the phrase —"go out with you."
But that was me. Scrawny. Brainy. Goofy. Religious. Socially-awkward. I sucked at sports, but could sing and act, which were gifts that no adolescent male wanted back then. These were the days before, High School Musical, American Idol, and Justin Bieber. Go figure.