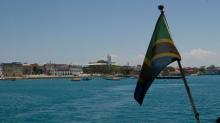 After months of calm in Zanzibar, two homemade bombs exploded Monday near St. Monica Anglican Cathedral and the Mercury restaurant, a popular hangout for tourists visiting the Indian Ocean archipelago.
No one was hurt, but one day earlier, four people were injured in another explosion, targeting an Assemblies of God church.
The attacks are blamed on the secessionist Uamsho, a religious group pressing for the full autonomy of the archipelago.  Uamsho, which means "awakening" in Swahili, is also known as the Association for Islamic Mobilization and Propagation.