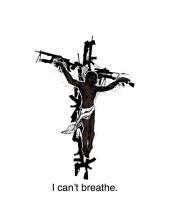 We call it Holy Week. But it was a terrible week.
His trial reeked of injustice. His own disciple sold him out for a few pieces of silver, betrayed him with a kiss … and hung himself.
As he was arrested, one of his closest friends disregarded all his teaching on love, pulled out a knife, and cut a guy's ear off. (Jesus called him out … and healed the other guy). A lot of the stuff that happened that first holy week was pretty unholy.
Once arrested, he was passed back and forth between politicians and bureaucrats. There was Caiaphas the priest, the Sanhedrin council, Pontius Pilate, the crowd — everyone seemed to want him dead, but no one wanted blood on their hands. Even Pilate washed his clean.
They had all kinds of accusations. Insurrection. Inciting a riot. Conspiracy. Terrorism (plotting to destroy the temple). Blasphemy.
But all he did was love. And heal. And give people hope.
Despite any substantial evidence, witnesses, or signs of any crime committed, he was pronounced guilty and sentenced to die.
As he awaited his fate, he was bullied, interrogated, harassed, tortured, beaten to a pulp. The authorities humiliated him and stripped him naked. They mocked the claims of his divinity, ramming a crown of thorns onto his head and wrapping him in a royal purple robe as they laughed.
And so it went. This man who many believe was the holy one that the prophets spoke of, the long-awaited Messiah, God incarnate, love with skin on— was executed, brutally. He died with his body convulsing as his lungs collapsed, with vultures swarming overhead, hoping to clean up after the execution. There is nothing more evil than what happened that "Good" Friday.