abu ghraib raid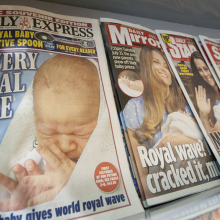 By now most of the world knows the royal family in England is celebrating the birth of little baby George Alexander Louis. The commentators panted as they caught the first glimpses of the magic baby, about everything from the infant's apparent ability to withstand a media onslaught to the ever-so-newsworthy fact that his father drove the family home with his own two hands.
Meanwhile in Iraq, several hundred prisoners of the infamous Abu Ghraib facility escaped, many of whom were known or suspected members of Al Qaeda. Considering the attention given to the few dozen detainees still held in Guantánamo Bay, it seems reasonable to think that such a breakout would arrest the headlines around the globe.
But instead, we stayed focused for the most part on baby George. I remarked about this to my friend, sharing my concern about the apparent distortion of priorities. He suggested that it simply is a sign of cultural fatigue, or even resignation. Sometimes, after all, these stories that have international importance seem so big, so abstract, and so far away that it is hard to wrap our minds around them. It's easier instead to set our attention on something more hopeful — albeit remarkably more superficial — that won't keep us awake at night.