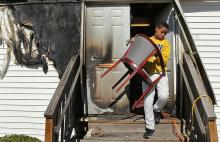 Police are stepping up patrols and trying to develop a profile of whomever has set six fires outside churches in predominantly black neighborhoods since Oct. 8, Police Chief Sam Dotson said.
The American Civil Liberties Union of Missouri and the Anti-Defamation League suggested a racial motive may be at play. In a prepared statement, the ACLU of Missouri's executive director, Jeffrey Mittman, called the fires "domestic terrorism."
"It is a sad truth that, throughout our nation's history, African-Americans often have been met with astounding violence when they demand equality," he wrote.
"Those who commit this violence seek to instill fear. This is why arson against predominantly black churches has been a frequent tool of white supremacy."