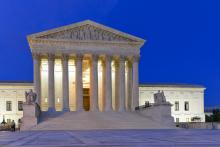 The Supreme Court on Monday sided with the evangelical owners of Hobby Lobby Stores Inc., ruling 5-4 that the arts-and-crafts chain does not have to offer insurance for types of birth control that conflict with company owners' religious beliefs.
Beyond the specifics of the Hobby Lobby case before them, the justices broke new legal ground by affirming that corporations, not just individual Americans or religious non-profits, may claim religious rights.
Does Monday's decision mean, however, that the religious beliefs of business owners stand paramount? That they are more important than a female employee's right to choose from the full array of birth control methods she is promised under the Affordable Care Act? Or that a business owner may invoke his religious rights to deny service to a gay couple?
Not necessarily, legal experts say.