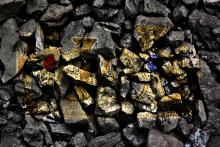 I'll be upfront and admit it. When I heard about the chemical spill that shut down the water supply for 300,000 of my fellow West Virginians, I felt an odd tug of relief.  "Maybe now something will get straightened out," I thought to myself.
Sure, what I felt might sound callously unfeeling. After all, the chemical spill closed down businesses and schools, shut down bathing, and reduced populations to scrapping for potable water. Happily, thousands of neighbors and outliers pitched in to deliver water from bottles to tankers to the beleaguered people.
Welcome, world, to West Virginia, your national energy sacrifice state. Our state has a king — name's Coal. Just as in Nebuchadnezzar's era (Daniel 3), on cue politicians, business people, and media outlets bow their knee to King Coal lest their fates be a metaphorical fiery furnace.
Before readers think I'm off-track, let me first back up.