Chelsea Clinton
Behind the scenes, for example, the two candidates – who couldn't bring themselves to shake hands at the third and final presidential debate a night earlier – were brought together by the cardinal during a brief pre-dinner prayer.
"They were both icy from the beginning, you could tell," Dolan said. "They're not on each other's Christmas card list, I can tell you that. You could tell those two had a rather, I'd say, frigid relationship, more than icy."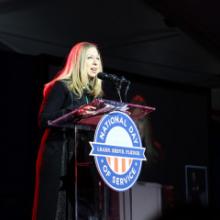 WASHINGTON — Chelsea Clinton is wearing a new professional hat, one that will take her into a religious direction.
The former first daughter is now the co-founder and co-chairwoman of New York University's Of Many Institute, a program for "multifaith" education. Its website says the institute "supports a new generation of religious and civic leaders who, deeply rooted in their own religious and spiritual traditions, reach across faith boundaries to solve social problems together."
Clinton's new job was reported first by the New York Post. There was no press release or big announcement, the newspaper reported — just her bio downloaded onto the program's website.