chameleon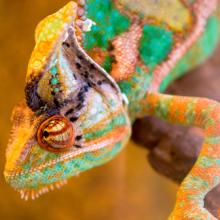 One of the common ditches that political candidates fall into is the temptation of a "concrete" character.

Among other things, one who is concrete holds to views that are supposedly unchanging and non-negotiable, and thus they possess an inability to compromise with those who may have diverse perspectives. A concrete character is often grounded in the belief that she/he "knows" who she/he is, and because of these unbreakable principles will not waver in her/his understanding regardless of the setting and potential consequences.
In other words, a person with a concrete character is immovable, solid, and resolute, and as a result, nearly impossible to bend or twist. While there is much to be admired in those who display the concrete character, there is also much to be criticized.
For example, while concrete may be strong and resolute, it is also fixed in time, stiff, and inflexible, and is thus unable to change regardless of conditions, societal advances, and circumstances. Thus, concrete — sooner or later — will crack.
As the current generation experiences cultural and technological change at a rate far greater than any era before it, those who refuse to be changed by unfolding knowledge and wisdom allow life to pass by while remaining trapped in one place. Therefore, while the concrete character may appear to be one of strength, it is ultimately weak, vulnerable, and unsustainable.