abolish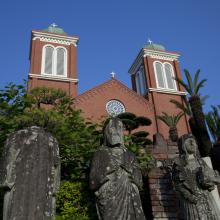 OVER THE LAST 14 months, I visited Nagasaki six times to prepare for and then participate in the Christian Forum for Reconciliation in Northeast Asia, along with 60 Christian leaders from Japan, the U.S., China, and South and North Korea.
Following the forum, I attended the International Symposium for Peacemaking in Northeast Asia, held at the Nagasaki Atomic Bomb Museum. These events gave me much opportunity to think about nuclear weapons and peacemaking, alone and together with a peaceable community of believers.
The devastating power unleashed on Nagasaki and Hiroshima 70 years ago shocked the human community. I have friends whose families suffered when atomic bombs fell on those two Japanese cities. But Japan was not simply a victim. The Pacific War started with the bombing of Pearl Harbor. And if the Japanese military had then had an atomic bomb, I am quite certain they would have used it.
Today, many are working to abolish nuclear weapons as inhumane and unacceptable. I am convinced that nuclear weapons cannot be justified. But the question "Why should we abolish nuclear weapons?" leads to additional questions: How do we think about wars, about killing and violence, in general? While seeking to abolish nuclear weapons, should we keep on making, selling, and using other kinds of weapons?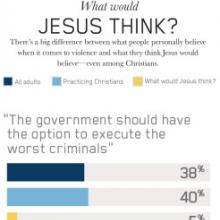 One day after the state of Ohio executed a man for murder, a new poll shows younger Christians are not as supportive of the death penalty as older members of their faith.
When asked if they agreed that "the government should have the option to execute the worst criminals," 42 percent of self-identified Christian boomers, born between 1946 and 1964, said "yes." Only 32 percent of self-identified Christian millennials, born between 1980 and 2000, said the same thing.
The poll conducted by Barna Group this past summer and released to Religion News Service Friday, surveyed 1,000 American adults and has a margin of error of plus or minus 2.6 percentage points.
It showed an even sharper difference in support for the death penalty among "practicing Christians," which Barna defined as those who say faith is very important to their lives and have attended church at least once in the last month. Nearly half of practicing Christian boomers support the government's right to execute the worst criminals, while only 23 percent of practicing Christian millennials do.