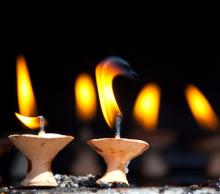 "What did you do on your summer vacation?" 
Even now students may be answering that question in essays at the start of this new school year. Maybe you wrote such a paper years ago. No matter what you did or where you went this past summer, it was almost impossible to escape the heaviness of the headlines. #BringBackOurGirls has become a distant refrain, almost forgotten beneath the crush of summer tragedies: 
Thousands of children traveled alone from Central American countries to enter the U.S. as refugees. Ebola deaths spread to more West African nations killing hundreds including many health workers. The forces of ISIS, intent on carving out an Islamic caliphate, took over major Iraqi cities and beheaded a U.S. journalist in Syria. Russia usurped Crimea and threatened the rest of Ukraine. The U.N. refugee agency announced in late August that "the number of refugees, asylum-seekers and internally displaced people worldwide has, for the first time in the post-World War II era, exceeded 50 million people." Gaza has been reduced to rubble while Hamas rockets still fly toward Israeli cities. Michael Brown, an eighteen-year-old African American man who might have started college this week, was shot and killed by a white police officer in the waning days of August.  
After such a summer, how can we do anything but scoff at Paul's words from Romans?