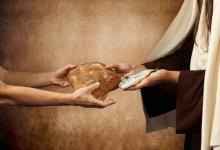 What might happen if we were to look at the two goods of protection and hospitality not as competing goods in a world of scarcity, but as complimentary goods in a world of abundance? I think we might come up with new solutions that no one has yet imagined.
In June, reporters for The Washington Post described deplorable detention conditions of the border patrol station in McAllen, Texas.
"The sick are separated by flimsy strips of yellow police tape from the crying babies and expectant mothers. They subsist on bologna sandwiches and tacos, with portable toilets and no showers, and their wait can last for days," they wrote. 
Soon after, President Obama declared a "humanitarian crisis" at the Mexico-U.S. border, citing a massive increase of undocumented children from Central America crossing the border. Without enough resources to house and care for the tens of thousands of children while they wait for an immigration hearing, the border patrol has been overwhelmed.
When Homeland Security Secretary Jeh Johnson visited the station in May, he asked one young girl, "Where's your mother?"
"I don't have a mother," she replied tearfully.