Cebu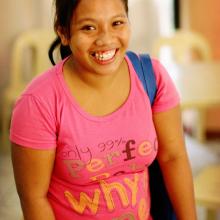 If you're reading this, you probably already know that modern-day slavery is a thriving, lucrative, global business. There are more slaves alive today than during the entire 400 years of the trans-Atlantic slave trade. Human trafficking generates about $150 billion in profits every year. And 1 in 3 trafficking victims are children.
The statistics are staggering.
For me, it was a single story that moved me through the numbers to a place where I could take action. I heard about Charina* when I joined International Justice Mission. She was one of the first girls we helped rescue in Cebu, Philippines.
Charina was 13 when she was sold for sex.
Her family was very poor, and she had dropped out of school in fourth grade. Her mother was the first one who sold her. For the next couple years, pimps took turns selling her from street corners and seedy piers. They earned extra because she looked so young.
Charina was finally freed from this harsh cycle of violence in 2007. She was addicted to drugs, pregnant and unable to trust the people who wanted to help her. The work of freedom was just beginning.
My colleagues started meeting regularly with Charina. She needed professional care and a customized plan to meet her unique and complex needs. She needed trauma-focused counseling. She needed to learn how to trust others and to believe in herself once again.
When I first heard her story and saw a photo of Charina—her bright eyes, her small frame—my first reaction was anger. This young woman should never have suffered in the many ways she has.
And that anger is right. It's not fair.
Charina's story has illuminated another reality for me, a more hopeful one. It doesn't have to be this way.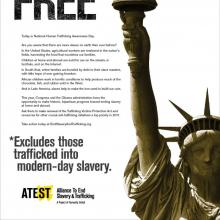 Today people across the nation (and the blogosphere) are taking part in National Human Trafficking Awareness Day, which encourages participants to get educated and get active in the fight to end the suffering of the estimated 27 million persons living in slavery today.
In his speech declaring January to be National Slavery and Human Trafficking Prevention Month, President Obama intimated a serious commitment to the fight to end modern slavery. This year, Obama and Congress have the opportunity to make historic, bipartisan progress toward this worthy goal.
And it's not just government that's getting involved. Just last week, over 42,000 young Christians banded together at Passion 2012 to raise more than $3.1 million dollars to fund organizations fighting to bring prevention, freedom and restoration to those trapped in slavery.
Sojourners has long been committed to the fight to end this abhorrent evil, and the current issue of Sojourners Magazine seeks to engage the topic head-on.
Inside, we invite you to explore our coverage and involvement in the fight against human trafficking over the past year!