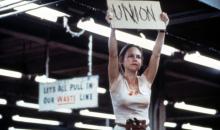 I make no secret of the fact that there is a big soft spot in my heart for the tremendous gains of the labor movement in American history and a big sad spot for how certain unions — such as those representing meatpackers and agricultural workers — have been all but decimated.
Since many — probably most — of my ancestors made their way in the world and in this country as laboring folks, I am proud to acknowledge that the privileges I have had I owe to their hard work and struggle to create an American middle class.
(Not incidentally, my grandparents met and fell in love at a Catholic Worker meeting, where my grandfather had interned as a seminary student. With Dorothy Day, natch.)
So in no particular order, here are some of my favorite pro-labor, pro-union resources for really celebrating Labor Day.

Please add your own favorites in the comments!