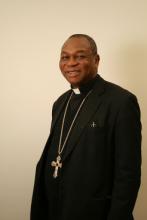 The kidnapping of 300 teenage schoolgirls by the Islamist group Boko Haram has shamed Nigeria, Cardinal John Olorunfemi Onaiyekan said Wednesday.
"We are all ashamed, terribly ashamed," said Olorunfemi Onaiyekan, the archbishop of Abuja, in an interview aired on 
Vatican Radio
. "The fact that, up until now, we are hearing practically nothing concrete on the issue, I think almost every Nigerian is taken aback. We cannot explain what is happening."
Vatican Radio reported that at least 53 of the girls had escaped from their captors but 276 were still believed to be in captivity.