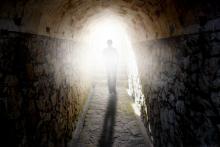 Though the church remains stuck in a culture of silence on sexual abuse, advocates are steadily building the platforms for individual voices to change the narrative. The depth of reconciliation that plays out upon these platforms can be profound.
Rachel Halder, founder of Our Stories Untold — a blog that hosts stories from survivors of sexualized violence within the Mennonite church — has witnessed such moments happen in real time.
One of Halder's first contributors was a woman who was prompted to break her silence after Todd Akin's comments qualifying "legitimate rape." By happenstance, the woman's former dorm-mate, who decades ago witnessed the immediate aftermath of this assault, recognized herself in the survivor's story.
Halder sat in disbelief as this dorm-mate came clean with her own years of shame and regret, expressing sorrow over lessons learned too late.
"I just saw this play out on my site, this overwhelming moment of reconciliation and restoration," Halder said, who later helped the two women reconnect by email. "It was completely unanticipated ... they hadn't seen each other in 20, 30 years. The healing process in these kinds of stories is really magical."