AARP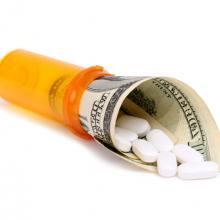 I signed up for Medicare last month. In addition to standard Medicare, I added Part D, the prescription drug benefit. My 2013 costs, if they had covered the entire year, would have come to $529 for insurance and $330 for prescription copays.
Today's mail brought the rates for 2014. The insurance premium has increased to $650, or by about 23 percent. Copays have also increased, to $616, or by nearly 87 percent. The total increase — assuming I won't need any additional medications — comes to 47 percent.
I was not happy when President Bush proposed and AARP supported Medicare Part D, the prescription drug benefit. The idea of insuring seniors' drugs was good. The resulting law, which specifically forbids the federal government from negotiating prices with pharmaceutical companies, was insane.
I'm a senior. And I'm mad. In fact, I am resigning from the AARP.
The America Association of Retired People has about 38 million members and is one of the biggest, most influential lobbies in Washington. It has done many good things for older Americans, but in some important ways it is just plain wrong — selfish and guilty of intergenerational injustice.
As Fareed Zakaria pointed out is a 2011 column in Time, the federal government spends about $4 on every senior over 65 and only $1 on every child under 18. "That is a statement about our priorities," Zakaria rightly says, "favoring consumption over investment, the present over the future, ourselves over our children." Partly as a result the poverty rate for children (22 percent) is much higher than that for seniors (9.7 percent).