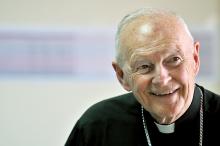 The day before a newly-elected Pope Francis was to be formally installed at the Vatican in 2013, Cardinal Theodore McCarrick was celebrating Mass in St. Peter's Basilica when he passed out at the altar and had to be rushed to the hospital.
It was a scary moment, and especially odd to see McCarrick stricken; even at 82, the energetic former archbishop of Washington always had a reputation as one of the most peripatetic churchmen in the Catholic hierarchy.
Doctors in Rome quickly diagnosed a heart problem – McCarrick would eventually get a pacemaker – and the cardinal was soon back at his guest room in the U.S. seminary in Rome when the phone rang. It was Francis. The two men had known each other for years, back when the Argentine pope was Cardinal Jorge Bergoglio, archbishop of Buenos Aires. McCarrick assured Francis that he was doing fine.
"I guess the Lord isn't done with me yet," he told the pope.
"Or the devil doesn't have your accommodations ready!" Francis shot back with a laugh.