Caleb Wilde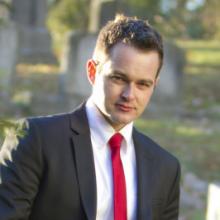 Most days, Caleb Wilde is a funeral director, discreetly making burial arrangements and guiding survivors in a time of loss.
But in his off hours Wilde has another, less conventional online side, in which he shares candid observations, irreverent thoughts on death, and photos that sometimes skirt the edge of outrageous.
Wilde is an undertaker with a media presence seemingly tailor-made for the age of disclosure.
His blog, "Confessions of a Funeral Director" has more than 80,000 monthly readers, a Twitter following of more than 16,000 and a Facebook page that attracts well over half a million visitors a week.