brownface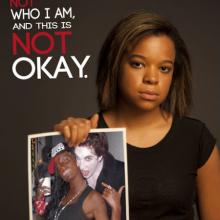 Americans love Halloween. In fact, maybe it's fair to say we go crazy about Halloween. How crazy?
Americans spend $310 million dollars per year on costumes … for our pets. Wow.
In total, Americans spend between $6.5 – $6.86 billion dollars on all things Halloween: costumes, candy, and decoration. More wowzers.
So, as the average consumers spends about $27 on costumes, I thought it's never too early to encourage folks to be careful how they dress up for Halloween … even if it's "all in the spirit of fun."
Listen, I like fun. And while my social life is nearly zilch, I like fun parties, but it's all fun and games until someone shows up at a costume party or … err … at your front door trick-or-treating in a borderline racist costume.
Yes, it's not too early to tell people:
Please don't dress up in a blackface, yellowface, brownface, or any other costumers that stereotype, denigrate, or mock another culture.
Don't caricature another real culture. Why? Because we're a culture and not a costume.