brother's keeper
I realized that other parents are hoping that I will love and care for their children just as they do. There are so many moments every day when someone else's child is in my hands. Do I recognize this? Do I choose to see them and love them that way?
In reality, our hands are never empty, even when it feels like we're letting go of someone so special to us. We open our hands and give our children as a gift to the world. And in the same moment, we find our hands filling up with so many others — the children of others, the parents of others, the brothers and sisters of others.
Will we treat them with the same love and care that we give to our own children and parents and sisters and brothers? Will we treat everyone as family?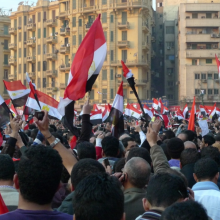 Nelson Mandela, the first democratically elected president of South Africa, has been in the hospital for more than two months. Nearly 20 years after his election South Africa remains, despite myriad troubles, a stable, multiracial, and democratic country.
Mohamed Morsi, the first democratically elected president of Egypt after the world-changing protests in Tahrir Square led to the resignation of former president Hosni Mubarak, has been out of office, by way of military coup, for more than one month. He is now being held by the military under house arrest at an undisclosed location, and the mere mention of his name divides the citizens of Egypt. This division has led to the death of more than five hundred Morsi supporters this week alone. In response, members of the Muslim Brotherhood and Morsi supporters have attacked dozens of Coptic Christian Churches.