70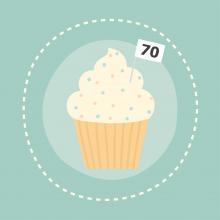 Can you imagine? I am now three score plus 10! According to measurements used during biblical times, a "score" was 20 years. Three score is 60 years. So three score plus ten, makes me 70. Moses put is this way in Psalms 90: "Seventy years are given to us! Some even live to eighty. But even the best years are filled with pain and trouble; soon they disappear, and we fly away." Well, I am not quite ready to fly away!
When I was a child, a 70-year-old person was truly ancient; like, really, really old. I imagined they were almost as old as dirt, salt, or the oldest Bible character, Methuselah. In my child's mind, 70 was too old to move fast, think hard, feel deeply, laugh out loud, dance gracefully, exercise intensely, and experience joy. Mostly, 70 year olds were just waiting to die. Right? Of course, they were definitely too advanced in years to think, feel, or act sexually, even though researchers say otherwise.
What is so amazing is that I feel many times better today than I felt at 60, 50, or even 40. 70 really IS the new 50!