5th anniversary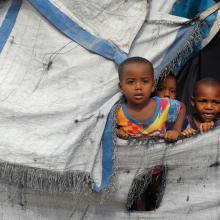 Five years after the 7.0 magnitude earthquake that devastated Haiti on Jan.12, 2010, killing hundreds of thousands of people, Haitians are still working to rebuild the poorest country in the hemisphere.
In August, Sojourners Editor Jim Rice traveled to Haiti to meet with nonprofits, ministries, and residents. His reports from the trip became the cover story for Sojourners' February issue. For the week of Jan. 12 only, we've released the story from our paywall. Go here to read for FREE.
See the slideshow of photos from the trip at the jump.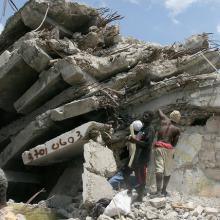 On this 5th anniversary of the earthquake, I remember four-story buildings collapsed into a stack of concrete pancakes. I remember circling over Port-au-Prince in a small plane with other relief personnel six days after the earthquake, finally able to get there. I remember bodies being pulled from rubble. I remember how it seemed to take so long for rebuilding to start. People responded generously around the world, though the overall impact has been hard to track. It has been encouraging to see building and infrastructure progress the past couple of years. Still, the big picture can make my faith and hope go a bit wobbly.
It's when I think of people — and when I start reflecting on the earthquake, people come first to mind — that the sadness comes on stronger, but so does the reason for faith and hope.