brad pitt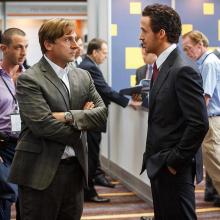 In Matthew 6:24, Jesus reminds us that we cannot serve both God and money. Serving money above all else means that we pursue our own greed, usually at the expense of others' well being. To serve God is to care for our brothers and sisters. To serve money is to forget that their problems exist.
Director Adam McKay's new film The Big Short, about the events leading up to the 2008 economic collapse, is a scathing indictment of the culture of greed, shortsightedness, and self-interest that allowed millions of people to lose their jobs and homes. It's a comedy, but one whose dark humor derives from a passionate sense of disappointment and anger.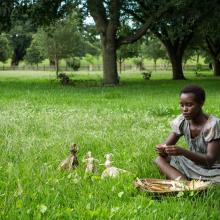 Since the production of The Birth of a Nation, Hollywood has lived with the mythic world imagined by artists who view the lives of people of color as footnotes and props. From Gone With The Wind to Django Unchained, the most difficult type of film for Hollywood to get right is the antebellum story of people of color.
Django, for example used the archetypes designed by Hollywood — "Mammy, Coon, Tom, Buck, and Mulatto," to quote film historian, Donald Bogle — and exploit them in order to create a hyper-exploitation Western fantasy, with slavery as the backdrop. The film is a remix and critique of exploitation clichés, not a historical drama seeking to illuminate our consciousness. Django is a form of visual entertainment where enlightenment might happen through a close reading of the film. All the archetypes remain in place. Nothing is exploded or re-imagined, only remixed to serve the present age.
Steve McQueen's 12 Years A Slave, on the other hand, sits within and outside the Hollywood fantasy of antebellum life. I say it sits within, because the archetypes forged by the celluloid bigotry of D.W. Griffith are present. But, in the hands of the gifted auteur, Steve McQueen, they are obliterated and re-imagined as complex people caught in a system of evil constructed by the immorality of markets, betrothed to mythical, biological, white supremacy.