botched execution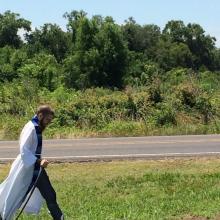 It's 93 degrees in Texas today. And Rev. Jeff Hood is walking 200 miles across the state. What would compel somebody to do that? He wants to end the death penalty … and he is not alone.
Rev. Jeff Hood is a Southern Baptist pastor, deeply troubled by his denomination's stance on capital punishment. And he is troubled because he lives in the most lethal state in the U.S. Texas has had 515 executions since the reinstatement of the death penalty in 1976 – the next state in line is Oklahoma with 111. That means Texas is responsible for 37 percent of the executions in the U.S. Jeff has been a longtime organizer and board member for the Texas Coalition to Abolish the Death Penalty, a movement that is gaining some serious momentum these days.
A growing number of Texans — and Americans in general — are questioning the death penalty. A recent ABC poll shows we are over the tipping point, with more than half of Americans being against the death penalty and in favor of life in prison, putting death penalty support at a new low. For some it is the racial bias – in Texas it is not uncommon for an African American to be found guilty by an all-white jury. In fact, in considering "future dangerousness," a criteria necessary for execution in Texas, state "experts" have argued that race is a contributing factor, essentially that someone is more likely to be violent because they are black – prompting articles like the headline story in the New York Times about Duane Buck: "Condemned to Die Because He is Black."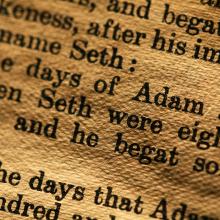 After this week's botched execution in Oklahoma, Albert Mohler, president of The Southern Baptist Theological Seminary, argued why Christians should support the death penalty at CNN.com. Grounding his argument in Genesis 9:6, where Noah is told that anyone guilty of intentional murder should be put to death, Mohler says, "The one who intentionally takes life by murder forfeits the right to his own life."
In my experience, most Christian pro-death penalty advocates make similar arguments, rooting themselves in Old Testament teaching. On occasion, they bolster their thinking with a somewhat cryptic reference to the government's ability to "bear the sword" to "bring punishment on the wrongdoer" by the Apostle Paul. Rarely, will anyone cite Jesus' teachings.
Mohler is a capable theologian and a thinker I respect. And I have many intelligent friends who support the death penalty. Yet, I think it is problematic for Christians to root their support of capital punishment in the Jewish Scriptures.