Borgias
The Vatican appears rocked by scandalous rumors and resignations just as church leaders must gear up to replace frail Pope Benedict XVI with a closed-door conclave.
But Vatican experts say if you think the world's largest nongovernmental institution is in unprecedented chaos right now, think again.
Vatican Secretary of State Cardinal Angelo Sodano presents the papal fisherman ring to Pope Benedict XVI at the new pope's installation Mass. The fisherman's ring bears an image of Peter, his boat and his net, which figure in two Gospel accounts of miraculous catches of fish. Benedict said that while fish die when removed from the sea, "in the mission of a fisher of men the reverse is true."
"Have you ever heard of the Borgias?" quipped professor Terrence Tilley, chairman of the theology department for Fordham University in New York. They were the larcenous, adulterous, murderous, election-rigging, Renaissance-era family of renaissance popes "who ran the papacy for decades like a private fief."
For all the sex, money, and power headlines wafting out of Rome these days, at least no one has been murdered. Infighting and innuendo, though, are ancient traditions that have moved into the bright lights of the 24/7 news cycle and social media.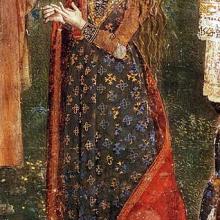 VATICAN CITY -- Their lives steeped in intrigue, treason and lust, and set against a backdrop of luscious Italian landscapes and Renaissance masterpieces, the Borgias are probably the most famous -- or infamous -- family in the long history of the papacy.
Now, a new Italian book wants to dispel, at least in part, the "black legend" surrounding a dynasty that bore two popes as well as cardinals, poets, and warriors.
Journalist and historian Mario Dal Bello drew on documents from the Vatican Secret Archive to write his new book, I Borgia: La leggenda nera, or The Borgias: The Black Legend.
For five centuries, the Borgias have attracted writers, painters and playwrights. They have been the subject of hundreds of movies and TV productions, most recently Showtime's popular series, The Borgias.
"It's easy to understand why: sex, blood, poison, power,"" Dal Bello said. "This is already fiction material."