5 things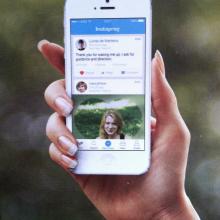 Religion writers get a lot of curious mail in their inbox. Our favorite this week was from Instapray, a social praying app.
Instapray does exactly what you'd think it would — matches communal prayer with the real-time get-it-anywhere nature of social media by allowing users to add, share, comment on, and update prayers. Like similar apps before it, there's a spiritual motivation, too — users can mark that a prayer has been answered, or "repray" with others in solidarity of situation or spirit.
Most social prayer apps to date are some variation on Instapray, if less catchy/hokey in name — the Prayer Network, Ora, Intercede, Fellowshipper. Their thesis is clear — we often forget or don't make time to pray; we don't know who and what to pray for; we want to know our deep questions or petitions are being heard. (One also has to wonder whether the psychological pitfalls of digital social tools apply doubly when faith is involved — "What about all my prayers left publically unanswered? Why doesn't anyone else share my prayer?".)
There's a growing sense of partnership potential between Silicon Valley and faith communities, but the market for Christian social media to date remains largely untapped. It seems developers and faith leaders have yet to discover their collaborative sweet spot, where often-private religious inquiry best meets digital social tools. Instapray is one newer attempt at finding that nexus — success TBD.
In the meantime, here are 5 other Christian apps tooled to provide a closer walk with … well, each other.
Few things are presented more inaccurately than Christianity. Often marketed through evangelism as a joyful, peaceful, loving, easy way to overcome the hardships of this world, in reality practicing Christianity is far more grueling than many pastors, churches, theologians, and Christian institutions make it out to be.
Christianity isn't meant to be a form of escapism, a safety net, or a crutch. Rather, following Jesus means bravely sacrificing yourself for the love of humanity, becoming nothing for the sake of others.
So instead of preparing people for failure, impossible expectations, disappointment, and false illusions, here are five things everyone should know before becoming a Christian.