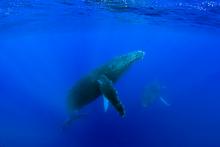 One question I would ask a blue whale, if I could summon it from the depths of the ocean, would be, "Is it your giant heart that makes your kind the most peaceful and intelligent creatures on Earth?"
I often wonder about the link between the heart and kindness and intelligence. "Cogit ergo sum (I think therefore I am)," wrote René Descartes, and we live in a time where the sum of all of life is the mind, the value of all of life is the ability to be right and to be smarter than anyone else.
But what of "sentimus ergo sumus (we feel therefore we are)?" Is the sum of all of life really empathy, the practice of placing ourselves in the shoes of fellow human beings and walking around in those shoes until we can feel life as they feel it?
"If we value the growth of our hearts most of all, could we be more like you?," I would ask my giant, gentle friend.